At educations.com, we surveyed prospective international students from around the world on what they want from online education fairs. A virtual education fair is a prime opportunity for university recruiters to meet and engage with prospective students.

Before participating in a virtual education fair, it's essential for recruiters to know what students expect to gain from the fair. This is especially important in these times when travel restrictions and safety precautions may prevent international student recruiters from holding education fairs or meeting potential students in person.
We at educations.com will be holding a global study abroad fair! Contact us to learn more about how you can participate in the fair.
Finding #1. Prospective students want to attend virtual fairs
For our virtual fair survey, we collected responses from 1,358 respondents from Sep. 2 to Sep. 8, 2020.
The biggest group of respondents from our survey is from Asia (39%). This is followed by Africa (28%), Europe (15%) and North America (9%).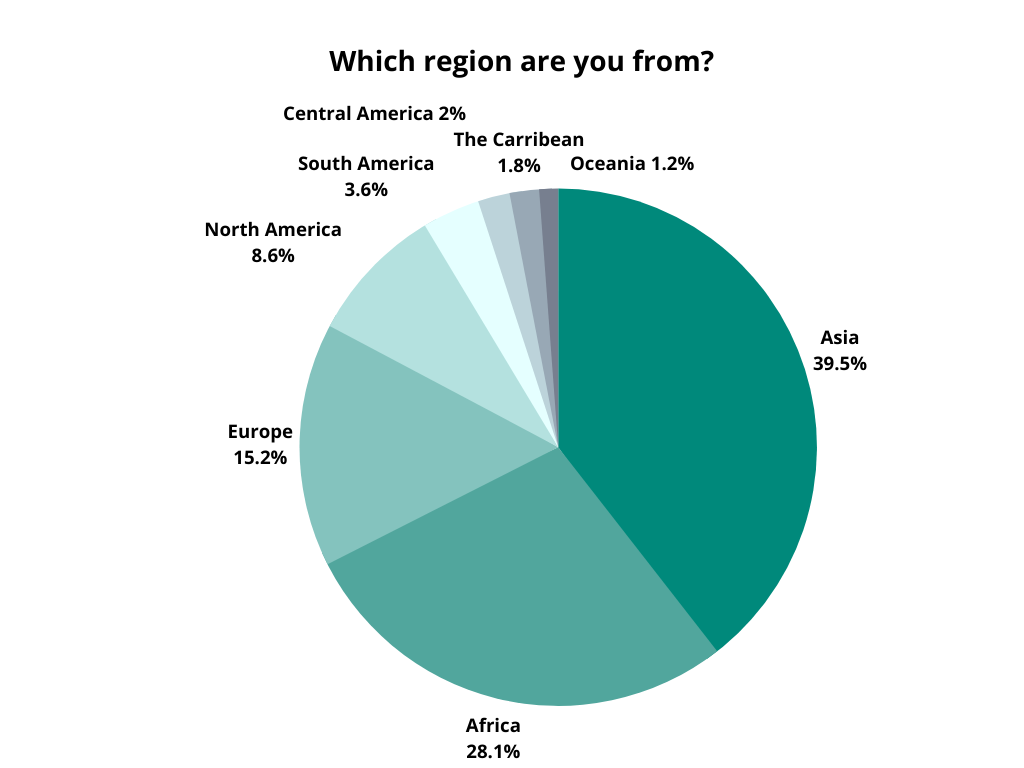 The vast majority of respondents (85%) have never attended a virtual fair. However, their participation in our virtual fair survey indicates that they are keen to attend online education fairs. This suggests that current circumstances are compelling more prospective students to seek out study abroad information online rather than in person.
This trend is supported by the increasing demand for virtual fairs around the globe. For instance, VEF Virtual Education Fairs, a Turkish virtual fair organizer, has witnessed an 80% rise in demand in 2020. In addition, Grand View Research forecasts that the global virtual events market is expected to grow at a compound annual growth rate of 23.2% from 2020 to 2027.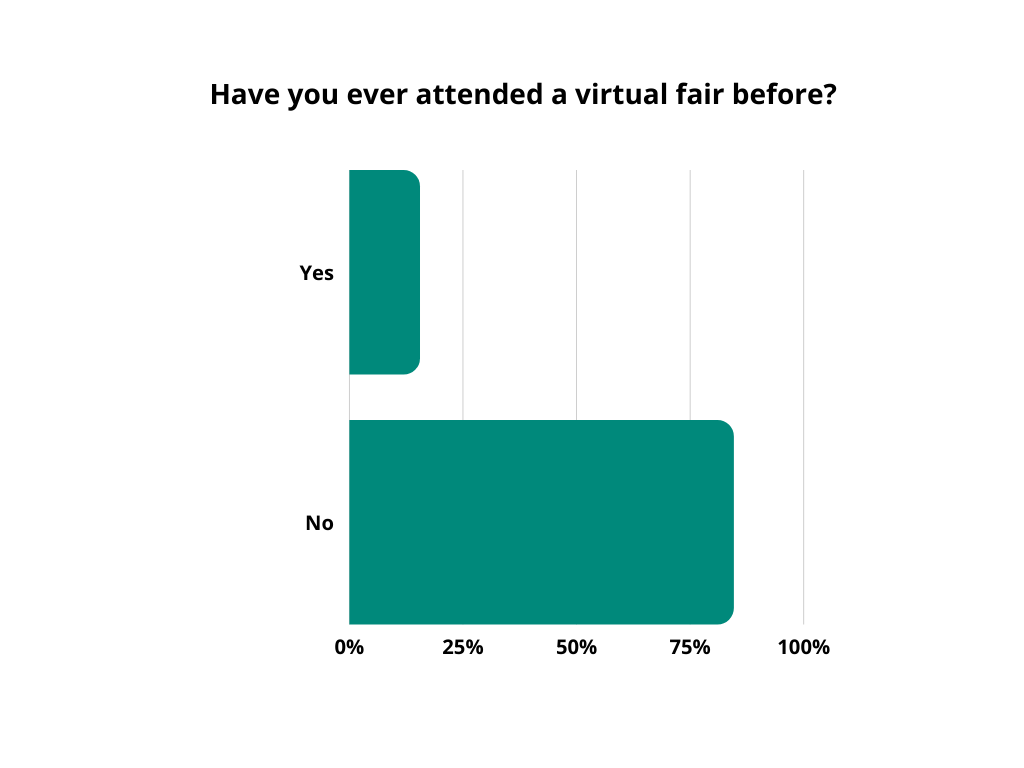 Finding #2. Students want a full suite of information
Although the majority of respondents have never attended a virtual fair, potential students are very clear about what they want from a fair, that is, comprehensive information about their study abroad options.
When presented with multiple options about what they hope to get from a virtual fair, more than 50% of respondents selected all the options. This indicates that prospective students would like to get as much information as possible from a single meeting with participating universities.
University recruiters therefore have to be prepared to present a full suite of information, from information about scholarships and details about a specific program to career advice and student life.
The ranking of the information that students hope to receive could help recruiters prioritize their presentations. The top 5 pieces of information that students expect to receive are:
Scholarships and funding options

About the school/university

Admission requirements

About a specific program/course

Student job opportunities
When filtered by region, respondents from Asia and Africa cite the same 5 items above as the top 5 pieces of information that they hope to receive.
Respondents from Europe and North America choose "student life and culture" in place of "student job opportunities" in their top 5 lists. The 4 other items in their top 5 lists are the same as in the above list.
There are variations on the ranking of the top 5 items for respondents from each region.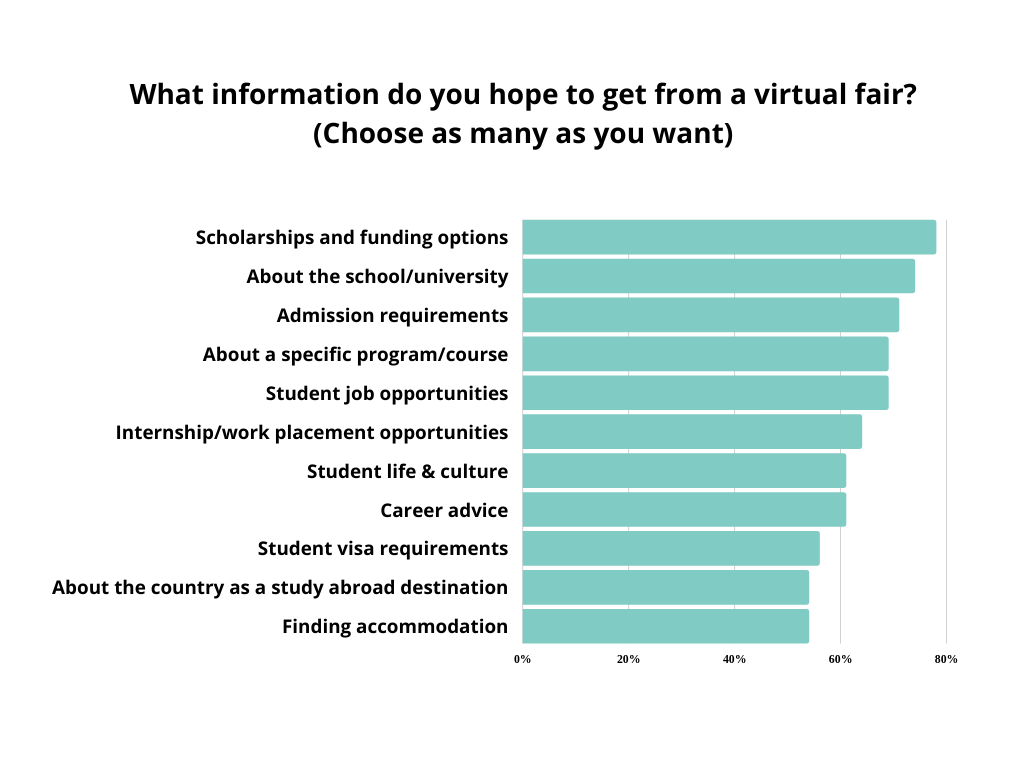 "I want to take an assessment test to know that I am on the right path and figure out what major is better for me to study. I don't want to just be taking classes, I want to make a difference in my life."
- Respondent quote
Finding #3. Students are keen on using technology to interact in virtual fairs
The good news for international student recruiters is that students are keen to engage and interact with universities and schools while attending virtual fairs.
More than half of the respondents selected the following services and events that they would be interested in at a virtual fair:
Downloadables (e.g. prospectus, course outlines, application forms)

Virtual campus tour

Live webinars, info sessions, and Q&As

Instant messaging chat with advisors
That "downloadables (including prospectus, course outlines and application forms)" is the most popular service implies that this is the minimum that recruiters need to provide to prospective students at virtual fairs.
Universities that can take potential students on a virtual campus tour are likely to attract more attendees.
Students have indicated their interest and comfort level with using technology to interact with universities and schools. Recruiters should therefore leverage on the technology available to hold live webinars, instant messaging chats and so on.
Recruiters should also have back-up plans for technical issues such as if/when the internet connection is slow on either end which can affect students from lower-income countries or homes in an outsized way. Instant messaging chats may then be a better option than video chats.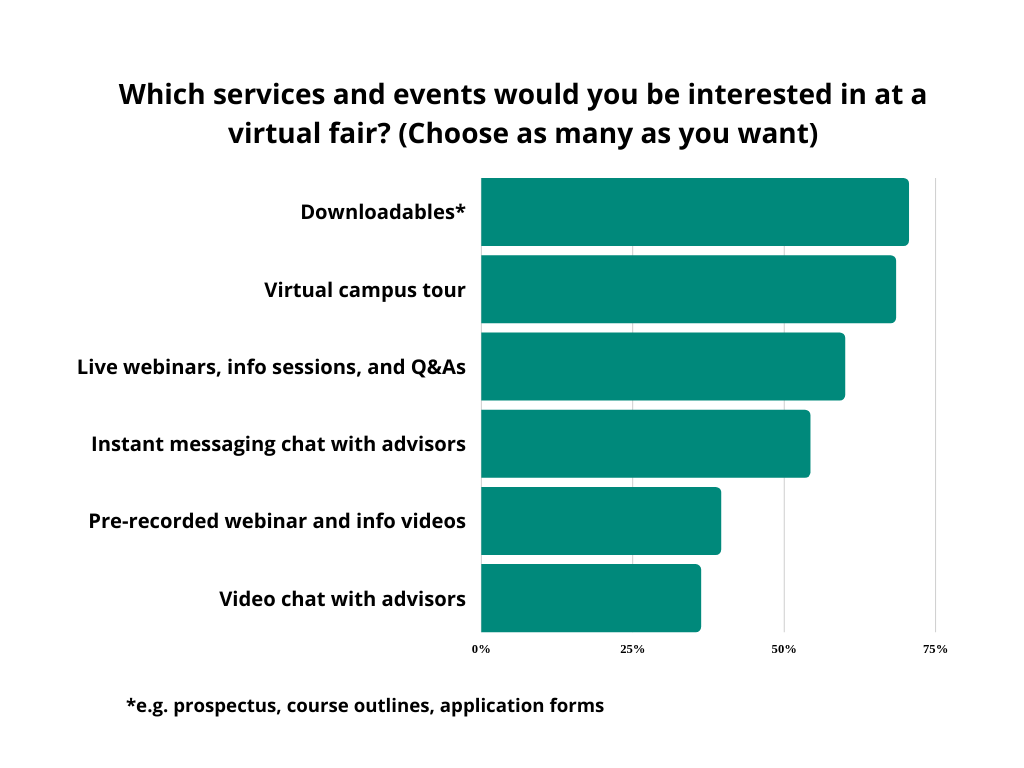 "An idea could be that in every booth, you could watch a recorded introduction of the school, and then you can choose from a menu the kind of studies you are interested in. And then you can chat or schedule a video conference with the advisor and other people interested in the same study field as you are."
- Respondent quote
"Brief 1:1 sessions with admissions officers. It would be wonderful to get an estimate of how likely admission is based on your current results and extra-curriculars. Lastly, mock lectures would be a great method of understanding if a course is right for you."
- Respondent quote
Finding #4. Scholarships and/or fee waivers is top factor that attracts students
There is a range of factors that could attract students to a university at a virtual fair. The top factor is the offer of scholarships and/or fee waivers by the university (selected by 68% of respondents).
Other factors that are chosen by more than 50% of respondents are:
Range of programs offered

The school is in a city/country of interest

Career services and industry connections

Welcoming nature towards international students

General reputation of the school

School offers accommodation and housing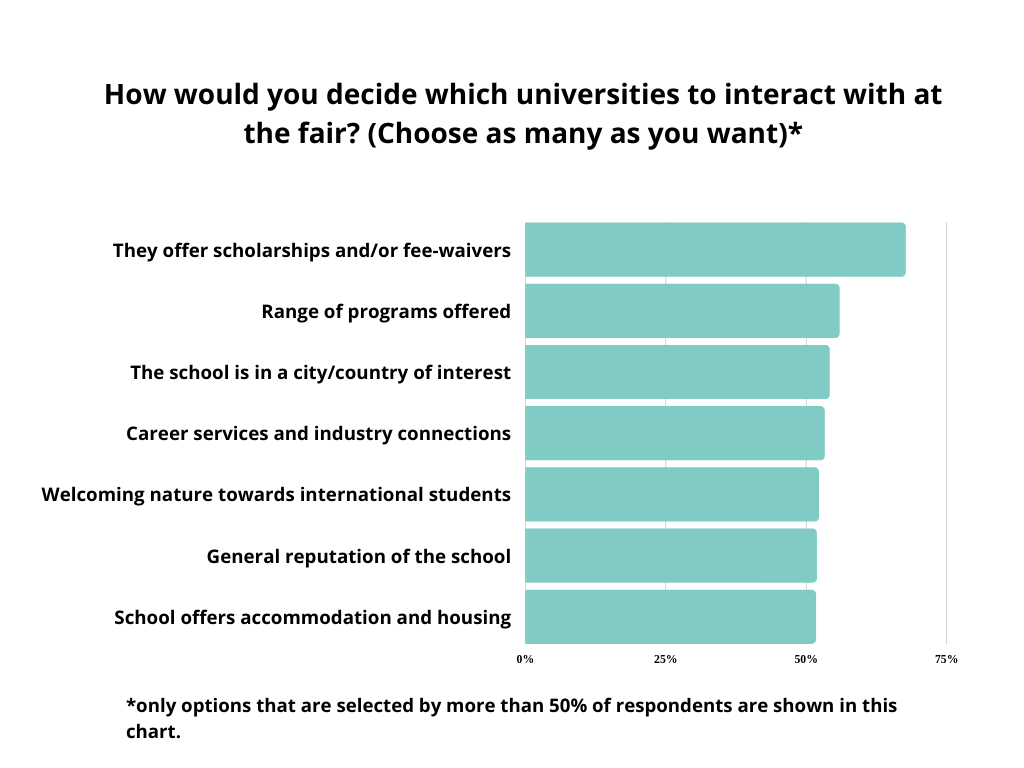 Finding #5. Key factors that attract students differ by region
When filtered by region, there are some variations in the major factors that attract prospective students to a university at a virtual fair.
The offer of scholarships and/or fee waivers by universities is the top factor for respondents from Asia, Africa and North America while it is the 4th-ranked factor for respondents from Europe.
Another striking key factor is "Welcoming nature towards international students". This ranks higher for respondents from Asia (2nd) and Africa (3rd) than for respondents from Europe (7th) and North America (13th). This factor may point not only to the welcoming nature of the university or school but also to that of the city or country in which the university is located.
Recent events such as COVID-19-related racial attacks and stigmatization may make students more hesitant about pursuing their studies in certain countries. Hence, university recruiters should strive to reassure prospective students. Universities can highlight the values and policies of their country, city or university that promote equality and counter racist and other discriminatory behaviors.
"I want to know about the open-mindedness of people regarding religion, color, nationality etc... I want people around me to accept me as a friend, I don't want them to judge me for being a Muslim girl with black skin."
- Respondent quote
Given the diversity of factors that could attract potential students, recruiters can tailor their offerings to different segments of students.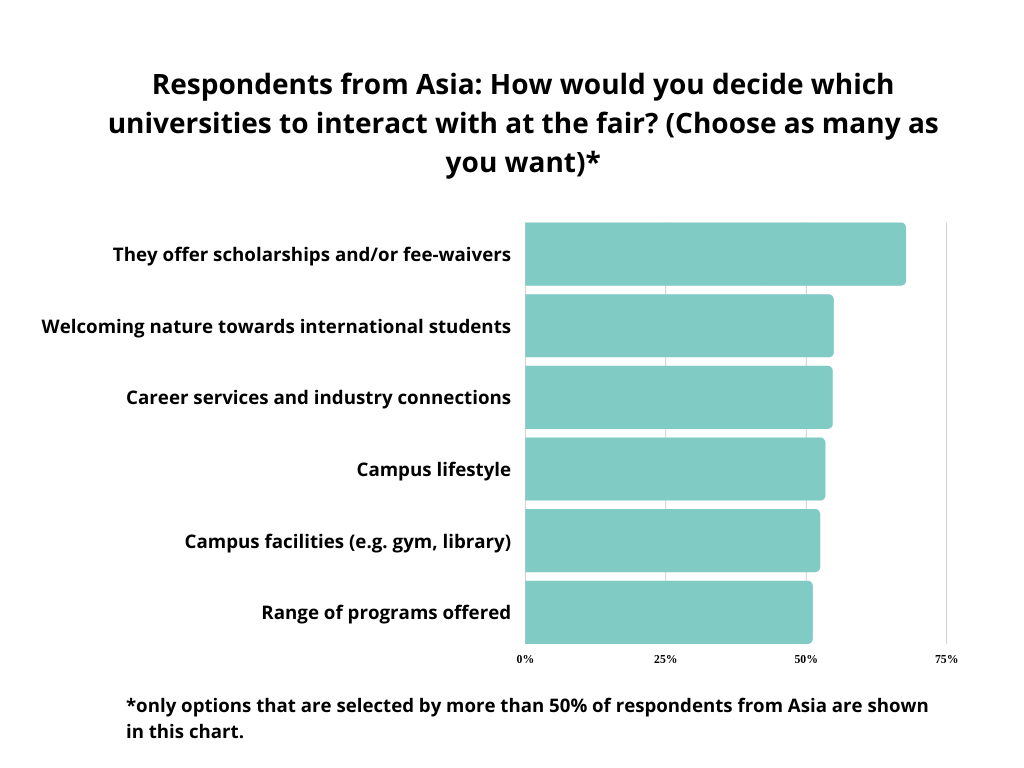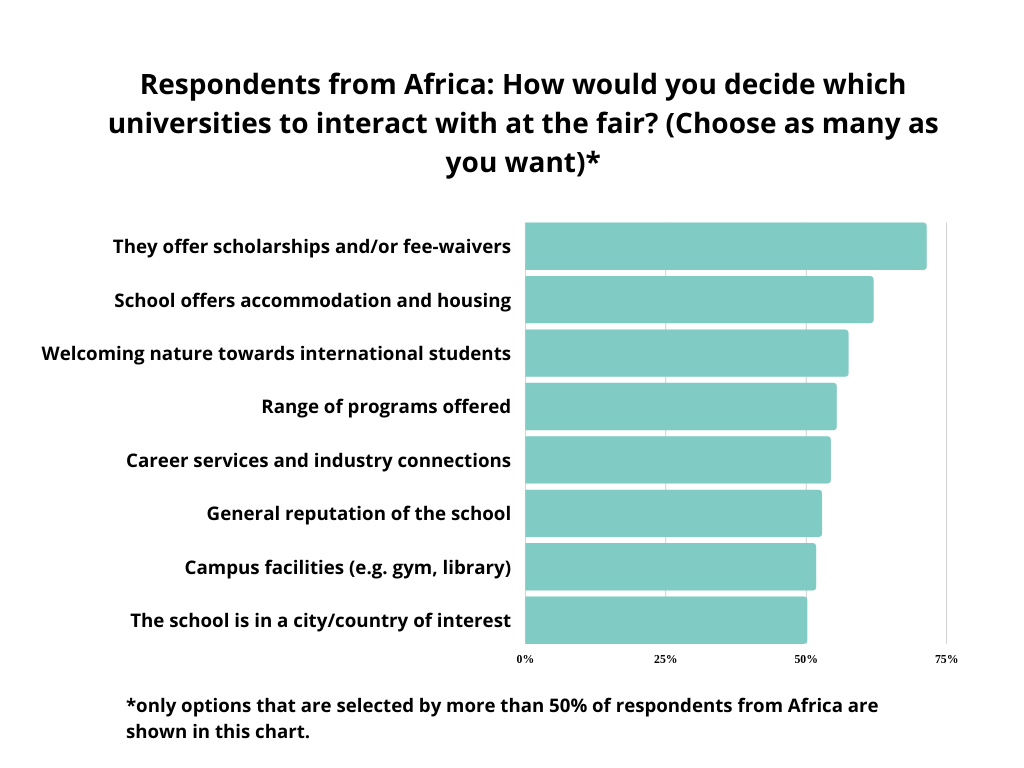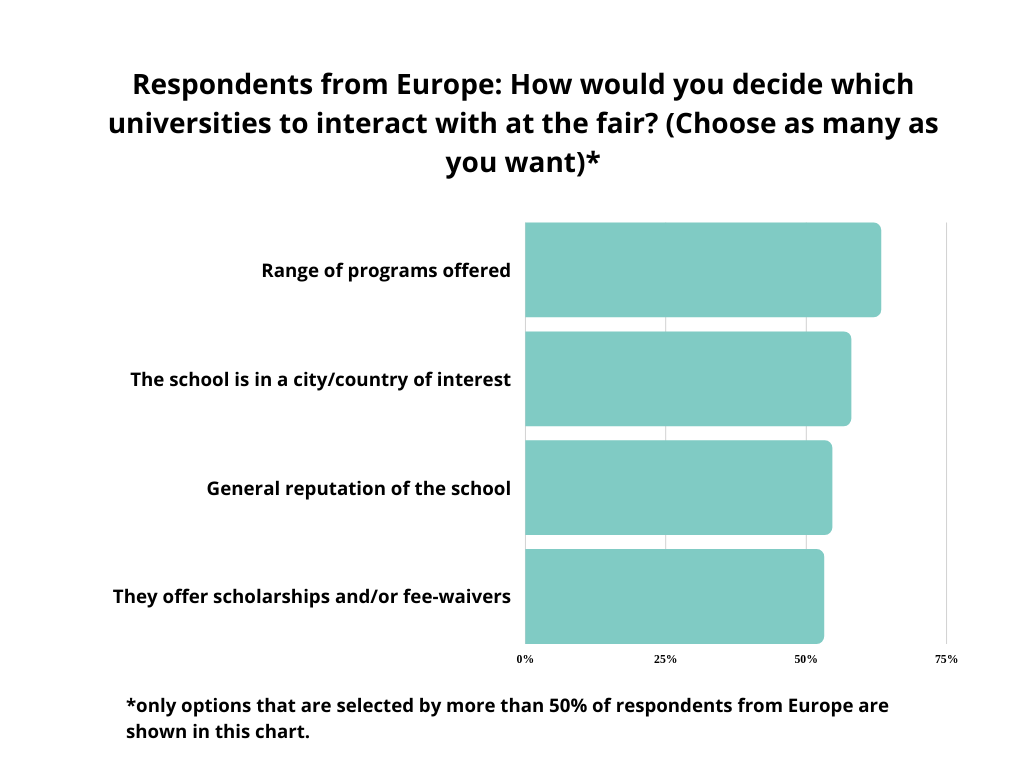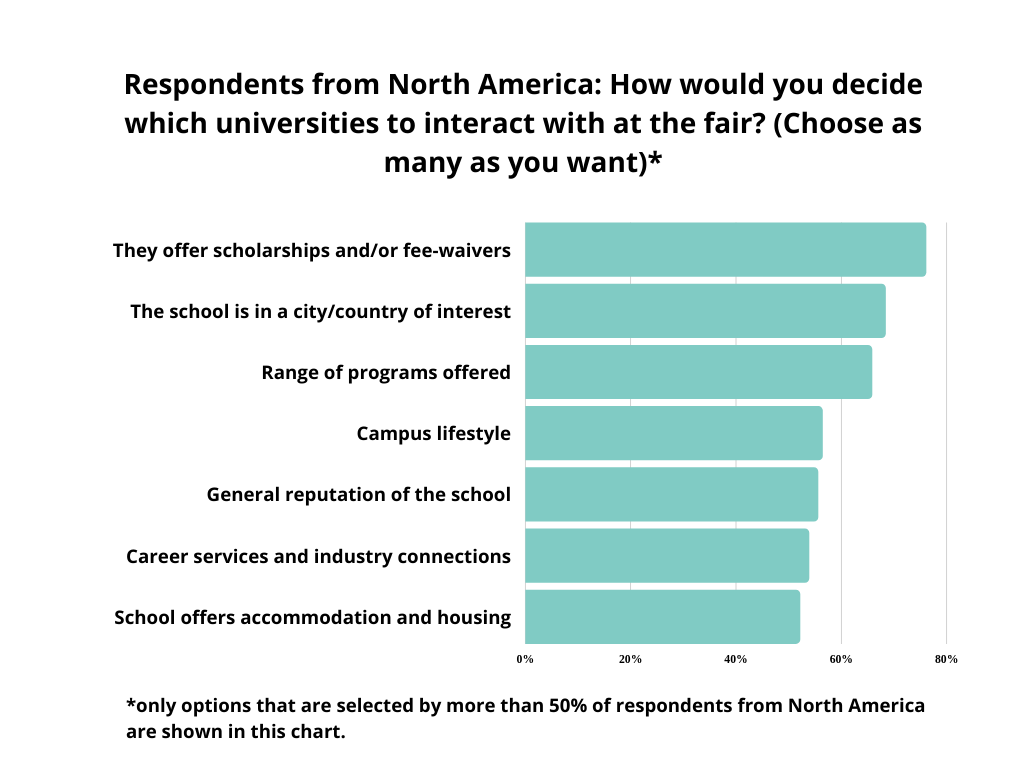 Prepared recruiters can generate international student leads at virtual fairs
Prospective students are shown to be keen to interact with universities and schools in virtual education fairs. Universities and schools can leverage on technology to connect effectively with potential students and generate international student leads from virtual fairs.
Want to participate in our upcoming global study abroad fair? Contact us to learn more.