More prospective university students are evaluating the mental health services of universities in light of COVID-19.
👉 Take a look at 2021 insights here: International Student Support and Well-Being: What Are Students Concerned About and What Do They Expect?

Headline statistics:
Sixty percent of prospective students say that mental health services are a very important factor in their search for a university. Half of these students report not considering this a very important factor before COVID-19.
Only 32% of current students report that mental health was very important to them when choosing a university.
Prospective students are evaluating support for live online counselling, in-person counselling and the overall ability of the university to support the mental health of incoming students.
To report on one of the many recent shifts in prospective student behavior, educations.com recently conducted a survey of over 1,400 students to observe emerging trends in how mental health services inform university choice. The survey finds that 60% of prospective students said that mental health services are a very important factor in their search for a university.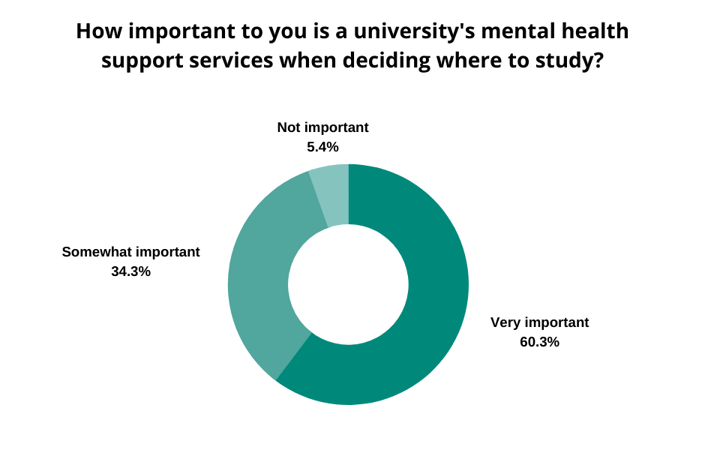 Half of these students say that the COVID-19 pandemic changed their previous view on the importance of mental health services.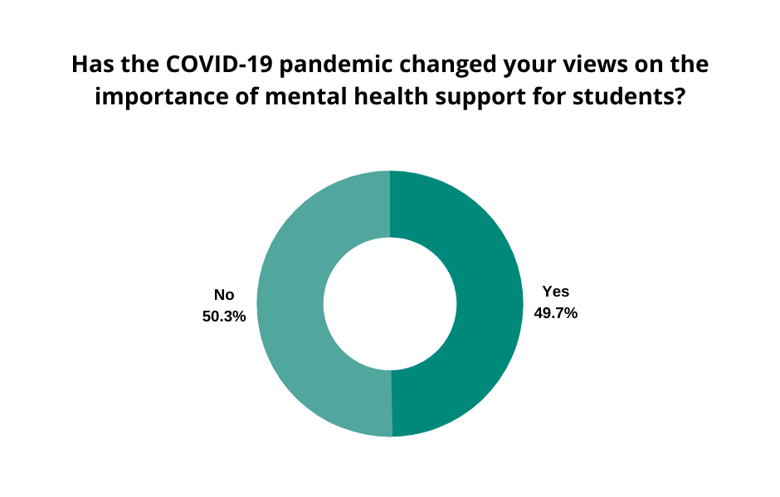 This change in sentiment is likely to be felt by universities in the near future as 80% of respondents say they plan to study internationally in 2020 or 2021.
The lion's share of students surveyed represent Asia, Europe, Africa and North America and students from all continents report an increase in sentiment of mental health services as very important factor in university choice.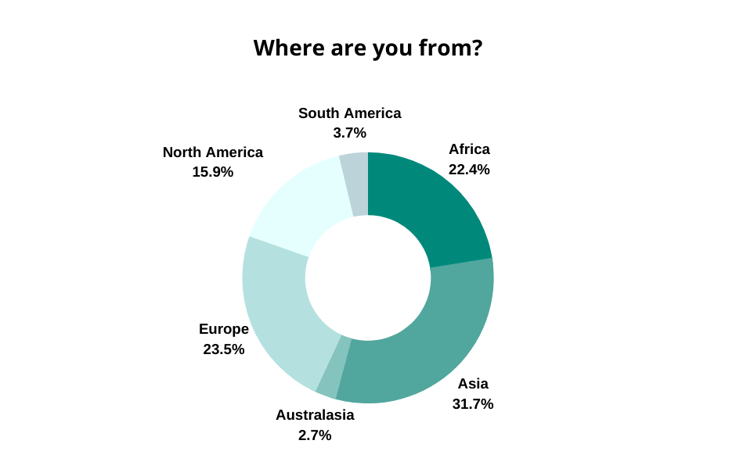 While current students before might not have weighted mental health services heavily in their decision - only to learn about mental health services once they had traveled abroad - the pandemic seems to have moved this criteria earlier in the international student journey.
Only 32% of current students say that mental health services were very important to them when they chose their university - while 55% of them now say that they believe mental health services are very important to their international study experience.
It's important to note that the majority of current students who have changed their minds about the importance of mental health have not done so because of the pandemic - but from their experiences before the pandemic. Only 26% said that the pandemic and its effects have brought its importance to light for them, suggesting that COVID-19 has sped up this priority for prospective students.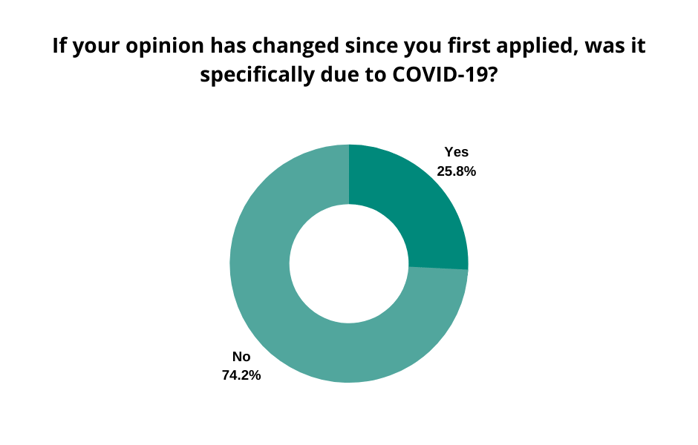 Prospective students are increasing their awareness of mental health - and judging universities by how well they are serving the needs of students.
For many prospective international students, the pandemic has increased the value they place on mental health services.
This may be drawn from their personal experience as many students report experiencing depression and anxiety for the first time in their lives due to health, financial, and social effects and uncertainty. In the survey, students shared their thoughts around a new-found awareness for mental health.
"I've never really struggled with my mental health and now that lockdown is easing and shops are opening I suddenly feel really anxious. This is something foreign to me and something I don't feel equipped to deal with. Considering Dublin is the epicenter of it all and I plan on studying there I'm a little anxious about that."*
"I have found that studying in these difficult circumstances has severely affected my mental health. I now understand that supplying mental health support is required to ensure the well-being of students."
For others it may be drawn from an increasing societal awareness of mental health and a desire to be part of a community that takes care of more than just the academic needs of students.
"It made me realise just how important access to mental health support is."
"Students suffering with mental health issues deserve to be heard and spoken to. Students' mental health is just as, if not more, important to their studies and consequent grades. Long waiting lists are not acceptable, and students should be able to access support for their mental health precisely when they need and want it."
"I thought it was important before but now I think it's crucial."
Although students may have different reasons for an increasing focus on mental health, they are absolutely paying heed to what support universities offer.
"I've noticed not many friends I know have had the same access to mental health help and education during the pandemic which is revealing of how certain schools take care of their students in general."
"I don't feel I am seeing enough universities taking actions that consider the changes of plans and attitudes that students are going through regarding the pandemic."
How have current students' views of international student services changed?
Current international students - which made up 56% of those surveyed rank their university's services at a weighted average of 3.7 - and some report a more positive impression from their university's efforts to expand mental health support during the pandemic.
"I didn't know that my university even offered counselling, since COVID-19 pandemic and the closure of campus, emails about mental help services for on and off campus students were sent nearly everyday. I also got a phone call from the head of the faculty about how I feel during online classes and how anxious and overwhelming it has been."
"Being in quarantine - it can make you feel so isolated. So having the school send out emails emphasizing that there were services to help was a relief."
Students who reported negative experiences cited either non-recognition of mental health struggles surrounding the pandemic in university communications, lack of overall services being brought to light, and faculty's lack of awareness of mental health issues - specifically those unique to international students.
"I grew aware of how much and many people need support and how little is actually available at my school."
"I've just seen teachers not been the most supportive around the fact that some international students might be struggling with a lot of outside issues right now."
What kind of services are prospective students most interested in?
As social distancing recommendations stay in place, it's unsurprising that the most common mental health service students requested was live online counselling via chat or webcam, followed by dedicated discussions covering mental health with peers and faculty with 46% and 44% of students respectively saying that these would help them.
Students were not keen to have all mental services become virtual with 43% saying that in-person counselling would be key in their evaluation of what mental health services.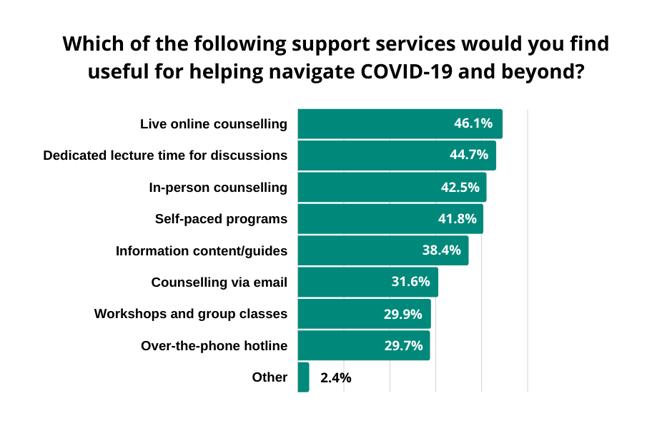 *All quotes are taken from responses to the educations.com survey: Mental Health Support for University Students.
Are you interested in learning more about prospective international students? Download our interactive 2020 Student Insights data to learn how student concerns, priorities, and feelings differ between nationalities and levels of study.