Email marketing is especially effective in the higher education industry as a cost-effective way to deliver targeted messages, improve recruitment quality, increase enrollment and retention, and connect with current and future students and alumni.
At educations.com, we specialize in helping students during the awareness phase of their study abroad journey. This is a time when email marketing can really make an impact. By sending personalized emails to targeted user groups, you can further your marketing goals and help students learn what makes your university a great choice for their higher education.
With ten years of experience offering email marketing services, we've learned a thing or two about creating a great email. Our email marketing service for the higher education sector now boasts an average open rate of 27% and a click-through rate (CTR) of 7.5% (compared to the education and training sector average of 23.42% and 2.9%, respectively).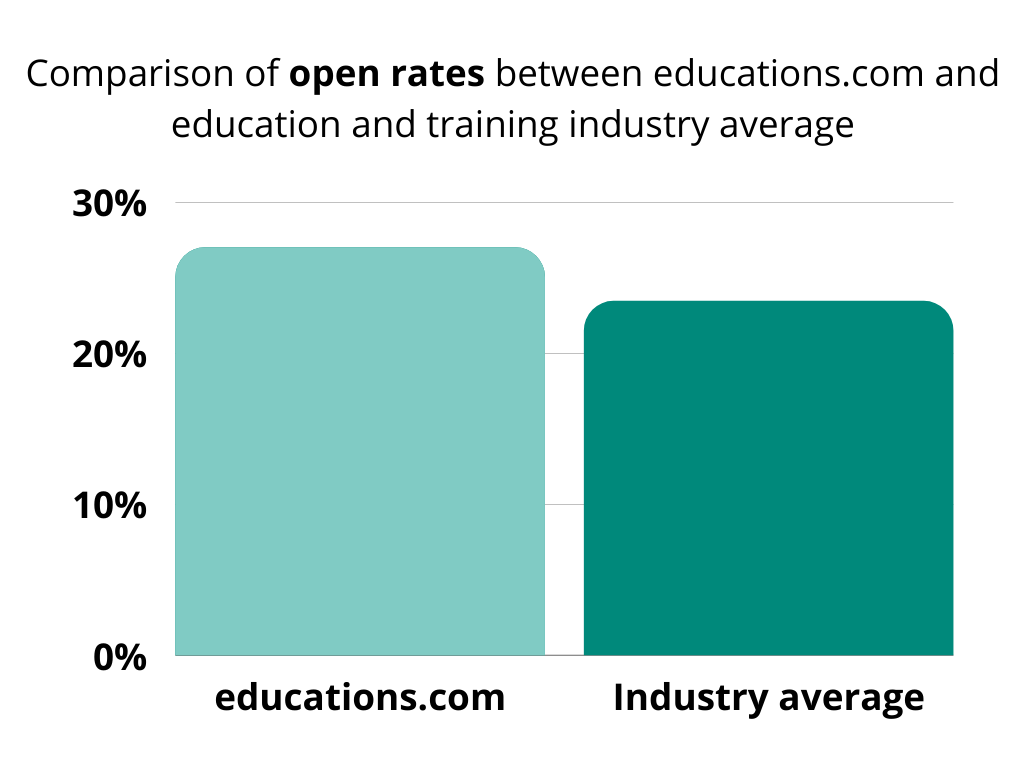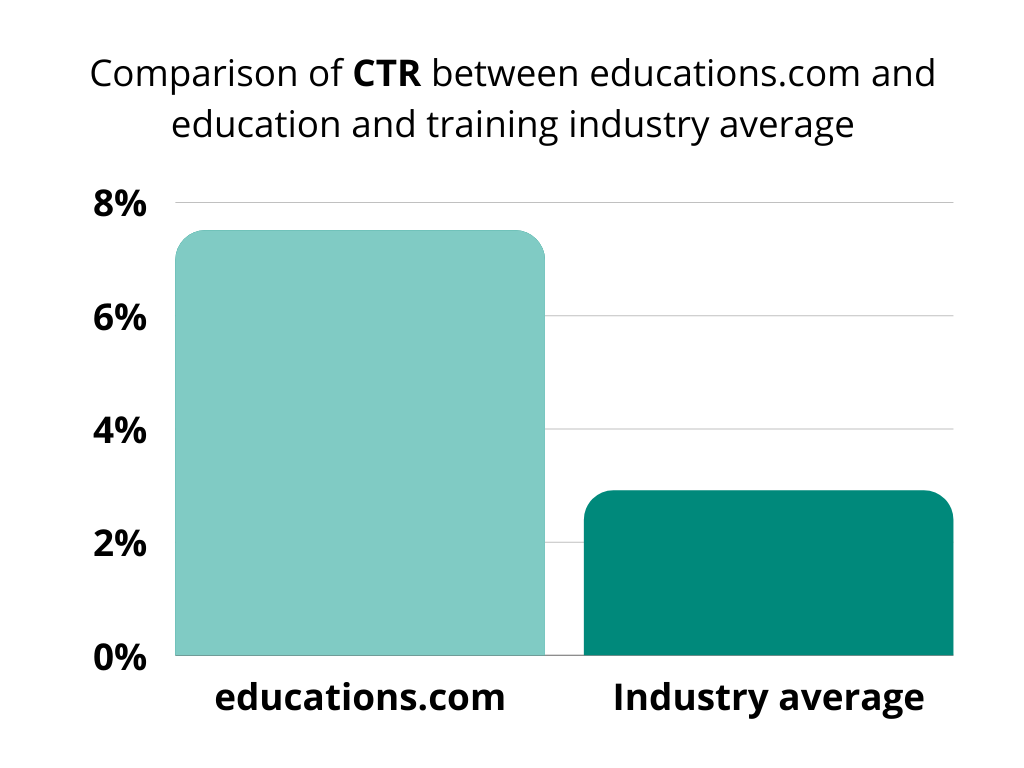 We analyzed our email campaigns since January 2019 to illuminate some email marketing best practices. By comparing the top ten percent of highest and lowest performing emails, we can pinpoint what works and what should be avoided in your next email campaign. Read on to discover our email marketing best practices in higher education!
1. Segment your member database
The first step in any email campaign is to get to know your target audience: Identify their needs and wants and direct them to the most relevant content on your website.
Prospective students may already have a country or region of interest or a subject they would like to study, but still have a lot of decisions to make. Email marketing campaigns targeted to a particular location or program of interest can be especially helpful to students on their journey.
If a student has submitted an information request to learn more about your school, this is your opportunity to send them university-specific information like important enrollment dates or information sessions.
To make sure your emails are engaging the right education buyers, segment your member database by one or more of the following categories:
Study subject(s) of interest

Current location

Desired study abroad location

Extracurricular activities or interests
Emails that are personalised and relevant to the recipient have higher open rates and lower unsubscription rates than those that are sent to entire member databases.
2. Keep subject lines short and simple
The subject line of your email is your chance to make a great first impression and can make or break your open rates. Make sure to keep your subject line short so that it isn't cut off when read on a mobile device. We recommend fewer than 60 characters.
Our emails with the highest open rates mentioned a specific date, location, or study program. For example, "Study in Amsterdam this winter" would likely have a high open rate among students who want to study a short program in Europe. If a student has already shown interest in your school or program, a more personalized subject like "Get a joint master's degree from the University of Glasgow" is likely to pique their interest.
Since most people quickly skim through their inbox, a subject line that gets straight to the point is best. Long, wordy subject lines without clues about what the email contains tend to report low open rates and low CTRs.
Most prospective students are Gen Z and therefore skilled in skimming and filtering through digital text, so keep your short subject line fun and engaging with the use of emojis. While not appropriate for professional email marketing campaigns, the use of emojis to emphasize the subject of your email can make your message to prospective students stand out in a sea of text.
When in doubt, many email marketing services allow you to A/B test subject lines so you can choose which one performs best before sending it to your entire recipient list.
3. Personalize the content of the email
A catchy subject line is your chance to make a great first impression, but personalization is key to keeping students interested and engaged.
If you've segmented your member database of prospective students by study subject(s) of interest, current or desired location, or extracurricular interests or hobbies, make sure the content of your email is relevant to them. Appeal to students interested in your country by telling them how your university is in the best position to show them all your country has to offer. For students interested in a particular subject or program, send them information about courses or programs you offer in that area.
Our best performing emails get right to the point and put the best selling points of their university front-and-center. Keep the text interesting and skimmable with short paragraphs, bullet points, and bolded text.
Check out this highly personalized email campaign in which students are personally addressed by a Program Advisor from the school. She tells students why they're being contacted (their interest in a specialized master's degree) and offers to schedule a time to speak over the phone. She links to her Calendly account, where students can easily schedule a call with her.
While this email was sent to over 4,000 students, it reads like a personal and helpful message from a Program Advisor and invites students to reach out to her personally. Thanks to personalization, this email has had the highest open rate in the last 3 years at 55.9% and an impressive click-to-open rate of 16.9%!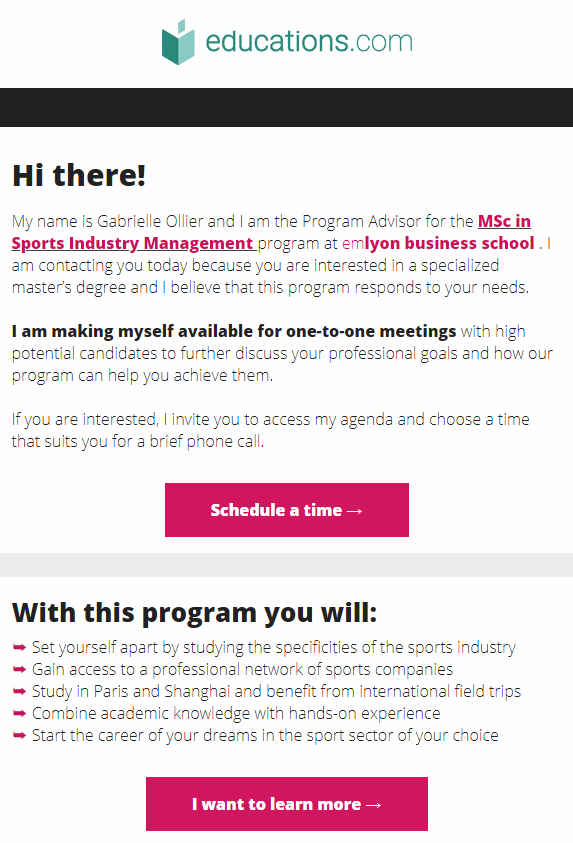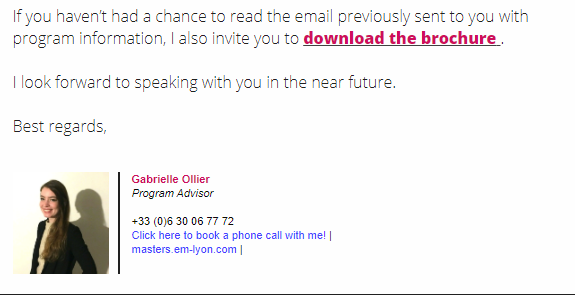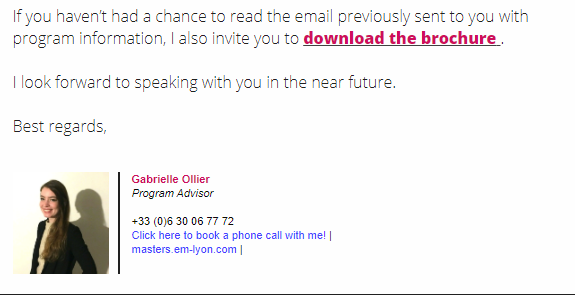 Other examples of our top performing campaigns: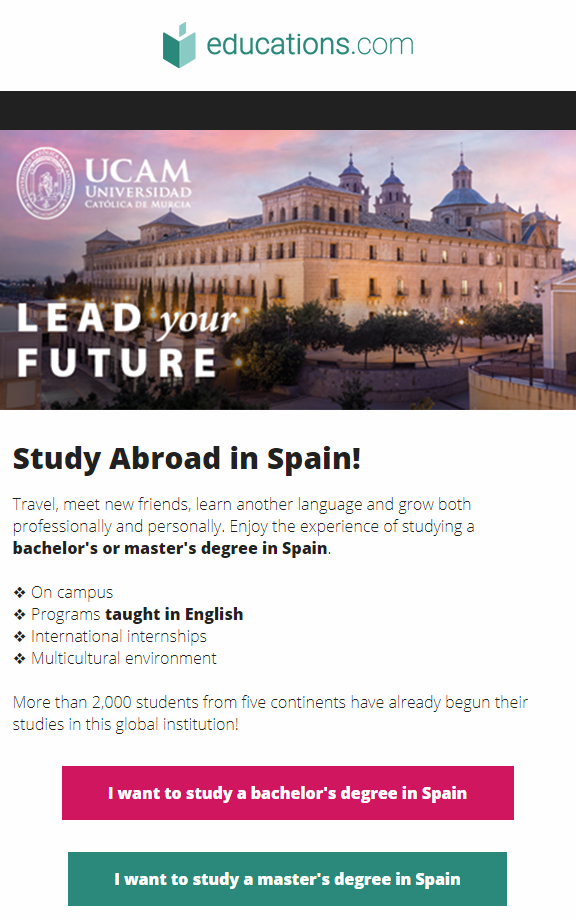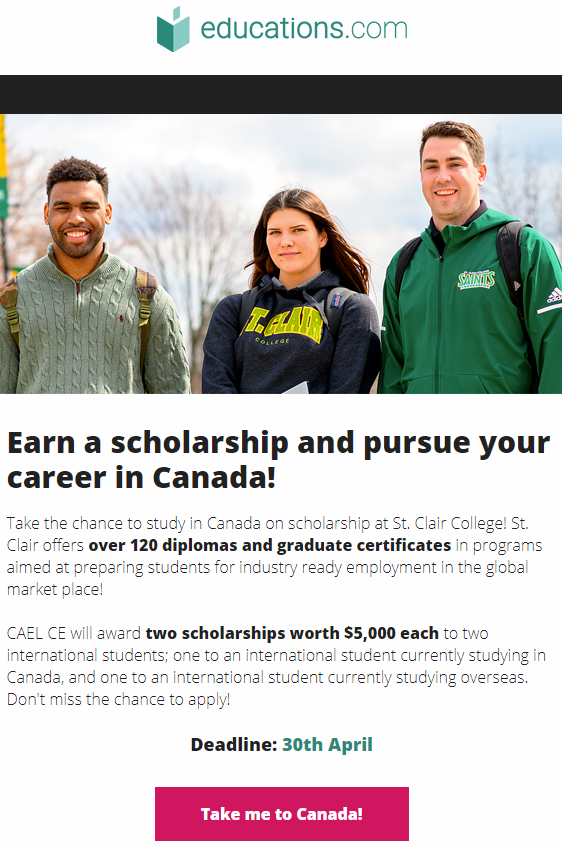 4. Get more clicks with strong CTAs
Once you've grabbed students' attention with relevant content, encourage them to click by inserting strong CTAs. Most clicks occur "above the fold," or before the reader needs to scroll down, so putting your most important CTAs front-and-center is key.
Bright, beautiful header images almost always get clicks so choose an image that will grab your reader's attention. Scenic shots of the country or city where your university is located, views of the university itself, or pictures of happy students at your university can help prospective students imagine themselves there, too. The vast majority of students click on the header image itself, so make sure it's linking to the right place!
The first CTA button should then be placed right after a short text and tell your reader exactly where they will be redirected when they click.
If they're eye-catching and clean, CTAs are a great way to increase conversions. Use actionable language to encourage clicks, for example:
Read more about this program

Find a scholarship

Learn more

I want to study in Italy
Finally, while it is important not to overload your email with CTAs and links, they shouldn't be hard to find and should always accompany your text. Our best-performing emails feature about 70 words per CTA, while the lowest feature 100+ words per CTA.
5. Pay attention to weekday and time zone
Once you've crafted a compelling subject line, created a personalized message with strong CTAs, reviewed your email for spelling mistakes and checked that all links work, it's time to schedule your email! But when is the best time to hit send?
There are certain times and weekdays when emails are more likely to be opened. Generally, email marketing campaigns perform best on Tuesdays, followed by Thursday and then Wednesday at 10 AM. However, this can vary based on your unique customer set.
Our analysis of the international student market has revealed that emails sent on Wednesday actually have the highest average CTR. Monday and Tuesday performed similarly, followed by Thursday and Friday.
Average CTR by weekday, January 2019 - June 2020
| | |
| --- | --- |
| Weekday | Average CTR |
| Monday | 8.94% |
| Tuesday | 8.93% |
| Wednesday | 9.44% |
| Thursday | 8.25% |
| Friday | 7.68% |
Feel free to try different days and times to see what performs the best with your target audience. Keep in mind that unless you're targeting students who currently live in one geographic area, time zones can vary a lot when recruiting international students. For best results, segment your emails by a student's current location to ensure that emails are delivered when they're awake!
Ready to experience the power of email marketing?
Whether you're new to email marketing or looking to improve your existing campaign, we hope our list of email marketing best practices will take your emails to the next level.
If you'd like to take advantage of our high open rates and CTRs that surpass the education and training industry average, we're happy to help!
Download our media kit to find out how we can help place your university in front of the right audience.